Triangles Bring Light and Love to Humanity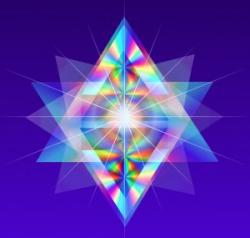 Triangles is a world service activity creating a great channel of light for love and power to stream forth to humanity and help manifest the great Plan for Humanity. Those who live and work with goodwill and who believe in the power of thought, meditation, or prayer, are welcome to to join this interactive global network. We use The Great Invocation or other world prayer.
You can create a triangle with two friends, create a new Triangle and wait for others to join, or to join a triangle online that needs another point of light. Many thousand Triangles are lighting up each day over the world.
Why is Triangles spreading throughout the world so steadily? The Great Invocation invokes divine love for all humanity; it heals, reconnects where there was separation, and opens doors to greater light. It is being said daily in more than 75 languages to bring peace and joy to humanity.
The energy of each triangle interlaces with the Triangles network and this spiritual force brings light into the minds and love into the hearts of humanity.
Online Triangles of Light: Link daily with the network of Triangles. Visualize light and love circulating from point to point to point and direct this energy to the minds and hearts and will of all humanity as you say the Great Invocation with the heartfelt intention to lift and aid.
Requirements: Light up your Triangle online each day if possible. Whether you are a point of light in one or several triangles, call the name of all the other members before saying the Great Invocation. The process takes only a few minutes. There are no other requirements. Contributions to support Triangles are not requested. These are entirely voluntary.
Activate your Triangle any time of the day or night, as many times a day as you use the Great Invocation (or other world prayer) with Triangles. When you light up your Triangle online, it registers your activity beside your initials. (Refresh to see this activity.) You may join or create several triangles. Just remember to light up each triangle by calling the names of the three points of light in each one as you say the Great INvocation and to light up your Triangles online.

Triangles Emails: We trust that you will only use the emails of your Triangle/a for communication about Triangles. Triangles are for uniting in thought or meditation with other souls somewhere in the world who share the vision of bringing greater light and love into the world for humanity. Members do not use the emails provided to promote other projects or businesses..
The Effect of Triangles: Triangles are a free service activity. Your regular participation brings a finer receptivity to spiritual energies. Keep your Triangle magnetic and bright. Some Triangles are several years old and offer a beacon-like effect from the spiritual energies brought into it. A few members light up online several thousand times each year. If you can light up 10 times each month you are letting your members know that you are with them in the purpose to manifest the Plan for humanity of light, love, and power.
What is the Network of Triangles? The network is built by each member using spiritual energies in a one minute invocation. This network provides the interlocking channels along which spiritual energies of light and goodwill can flow, actually like thousands of strands of light that provide a path for the energy of world peace and goodwill to reach all the people. TrianglesofLight.org is one unit of the Triangles world network activity.
Spread the Word: The light of the Triangles network grows brighter every time a new member joins.Triangles grows only by word of mouth. Share Triangles with friends. Many Triangles workers have expressed the powerful effect of the invocation upon their own lives; they experience pure joy in distributing this energy over the world.
An Act of Service: Triangles is not connected with any world religion. It is a service project that includes men and women of all religions and beliefs. Triangles are an act of service for the world, offered in a spirit of co-operation and selflessness. The purpose is to increase the flow of light and loving understanding over the world.
The Plan: This planet has a spiritual destiny. Behind evolution there is an abiding purpose, which we can call the Plan of God. All who respond to spiritual need can, in their own way and within their own environment, co-operate in fulfilling the divine Plan. The Plan works out through humanity. We are responsible for understanding it, and for doing what we can through our daily living to express its meaning and significance.
Your Edit Page: Go to your edit page (using your password) to review the names and emails of your triangles members, to change your preference on which version of the Great Invocation you want to use, or to resign from a triangle. Your name will automatically removed from that triangle. If you forgot it, send a request for it. It is a thoughtful gesture to notify your other two points of light before resigning with a note of appareciation for the opportunity to work with them.
The Great Invocation: This invocation carries the light of wisdom, understanding, and love that exists beyond all barriers of belief and prejudice. It does not belong to a religion or group. Every moment, someone is invoking light and love for the world in one of 70 languages, and adding to the gridwork of light for humanity. The Great Invocation forms a channel for spiritual energies to reach humanity and aligns you with other spiritual workers invoking help for humanity. You are also "lighted up" as the energy of the Great Invocation generates healing and transforming energy from solar fire.
A Bridge of Light: Triangles attract and weave the substance that builds a lighted bridge to your higher mind from your lower mind. Expect changes as divine light flows more freely into the world. When one taps into the Will and Purpose that lie beyond the lower personality will, a spiritual link unites them; the lost knowledge of each one's higher life purpose is revealed.
World Service through Triangles: Our Online Triangles site is in response to the mass call for help, hope, and sanity. When you link with your Triangle members, visualizing light, love, and higher purpose for humanity, you provide a profoundly useful world service. You invoke spiritual help for humanity through the network of Triangles, and help step down spiritual energies to be more available. Each participant adds light to this great channel and participates in lifting the masses out of reactionary and separative domination or using hatred and revenge for motivation.
From a Grid of Squares to Triangles: The energies that flow through Triangles stream into the world -- carrying Divine Love, Divine Light, and Divine Purpose. Presently, the subtle energy interlacing our planet and all life is a grid of squares. Spiritual energies move very slowly around this network of squares traveling from point to point to point. Triangles cut across these squares diagonally and form two triangles from each square. Spiritual energy from higher levels can then pass raidly through the grid. The Path from the higher dimensions to the denser dimensions of earth becomes radiant with light.
May Triangles bring blessings to you -- on every level.
Click here to start a new triangle or to join a triangle.